Dream of the Blue Room
"A dreamy, haunting work with a deeply personal feel. Any time a work of fiction raises our sights to higher truths, as this one does, the writer has done her job."
Florida Sun-Sentinel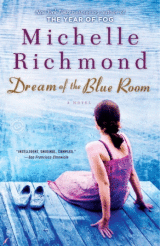 Jenny and Amanda Ruth were best friends in a small Alabama town until Amanda Ruth was murdered. Now, fourteen years later, Jenny has traveled with her husband to China to scatter Amanda Ruth's ashes and finally fulfill her friend's dream of visiting her Chinese father's homeland. It is also, Jenny hopes, an opportunity to repair her own troubled marriage. But as she journeys through a foreign landscape, the guilty secrets of Jenny's past rise up and her life will be inexorably altered. This stunning novel captivates with its depiction of the powerful intimacies of marriage, friendship, and family that shape our paths and the bonds of home that buoy us—wherever home may be.

The story behind the book       Buy the book      Read an excerpt
Win a signed book
Enter the monthly drawing
Each month, I randomly select one winner to receive a signed copy of one of my books. You choose the book, and I'll send it to you or a friend with a personal inscription. Simply type in your email address to enter the drawing and receive my monthly newsletter.
"Some childhood relationships are so fulfilling they shape our lives and leave us wondering why they didn't last longer. Richmond captures, explores, and intertwines these bonds so elegantly, you might even think the relationships are your own." USA Today
"Intelligent, original, complex." The San Francisco Chronicle
"A complex and nimbly fashioned first novel." Kirkus Reviews"The book is finely crafted and compelling, and its emotions resonate true and clear." Booklist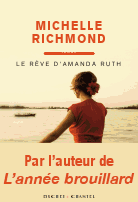 "With the slow build-up of a mystery, the exquisite pain of a coming-of-age novel, the masterful images of a travel writer, and a darkness that is true to the Southern Gothic, Dream of a Blue Room is a work of wonderfully chimeric form. " Joanna Pearson, Small Spiral Notebook