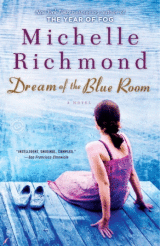 "A dreamy, haunting work with a deeply personal feel. Any time a work of fiction raises our sights to higher truths, as this one does, the writer has done her job." ~Florida Sun-Sentinel
"With affecting elegance, author Richmond moves from Jenny's past to her present, from her memories of (and guilt about) Amanda Ruth to her despairing hopes of saving her marriage—conflicts that are clarified against a perfidy-filled backdrop of Chinese double-speak. In a splendid close, Jenny finds herself in an abandoned village with a blind old tea-seller who offers her, with eloquent finality, 'the secret heart of China.' Eloquently, the naïve American finds heroic fortitude in an ancient, ambiguous land." Kirkus Reviews
Jenny and Amanda Ruth were best friends in a small Alabama town until Amanda Ruth was murdered. Now, fourteen years later, Jenny has traveled with her husband to China to scatter Amanda Ruth's ashes and finally fulfill her friend's dream of visiting her Chinese father's homeland. It is also, Jenny hopes, an opportunity to reconnect with her estranged husband, Dave.
Jenny and Dave arrive in China in the midst of the Three Gorges Dam project and embark on a cruise up the Yangtze River. Her first night on the ship, Jenny meets Graham, a man with whom she shares and instant connection. After Dave makes it clear that the marriage cannot be saved, Jenny falls into a passionate affair with Graham. As the ship moves slowly through the heart of the country, Jenny watches the landscape change before her eyes, as ancient cities are inundated with water. Jenny's own memories–of her intense intimacy with Amanda Ruth, and the small town prejudice that threatened their friendship–begin to surface. When Graham reveals his own reason for being on the ship, Jenny is faced with an unthinkable choice.
Dream of the Blue Room is a deeply erotic novel that raises provocative questions about what we choose to bury, and what rises to the surface. It is also a lush journey into a landscape that, since the publication of this novel in 2003, has been inexorably altered by the construction of the Three Gorges Dam.
Buy from Indiebound    Buy from Amazon     Buy from Barnes & Noble
The story behind the book     Read an excerpt   Discussion questions
"Some childhood relationships are so fulfilling they shape our lives and leave us wondering why they didn't last longer. Richmond captures, explores, and intertwines these bonds so elegantly, you might even think the relationships are your own." USA Today
"Intelligent, original, complex." The San Francisco Chronicle
"The book is finely crafted and compelling, and its emotions resonate true and clear." Booklist
An exotic and nimbly fashioned first novel about a troubled young woman hoping to save her marriage while on a cruise down the Yangtze River.
"Thirty-two-year-old Jenny, owner of a fashionable Manhattan boutique though she's originally from Alabama, has been separated from her EMT husband, Dave, for two months. Their Chinese summer cruise is a last-ditch effort to get back together and allow Jenny to scatter the ashes of her half-Chinese childhood companion, Amanda Ruth, mysteriously strangled in Alabama 12 years before. Memories of Amanda Ruth haunt Jenny: as young girls they'd become physically attracted and were discovered making love one day in a boathouse by Amanda Ruth's angry Chinese father. On the cruise, while Dave sleeps in the cabin with irksome indifference, Jenny meets on deck a 53-year-old Australian, the suave Graham, who is counting his last effective months before Lou Gehrig's disease immobilizes him—and who, it becomes clear, has Jenny pegged for a final, momentous favor. Over the course of many days, the boat approaches the Three Gorges, where the Yangtze has been dammed—eliminating much sea life and many villages, on the one hand, while, on the other, giving China the chance to perform marvelous engineering feats. The situation between Dave and Jenny deteriorates: Dave beds Stacy, a kooky young co-passenger who's fleeing her own dependency demons, while Jenny and Graham fall into a passionate, natural intimacy. With affecting elegance, author Richmond moves from Jenny's past to her present, from her memories of (and guilt about) Amanda Ruth to her despairing hopes of saving her marriage—conflicts that are clarified against a perfidy-filled backdrop of Chinese double-speak. In a splendid close, Jenny, having lovingly executed her final favor for Graham, finds herself in an abandoned village with a blind old tea-seller who offers her, with eloquent finality, 'the secret heart of China.'
Eloquently, the naïve American finds heroic fortitude in an ancient, ambiguous land."
Kirkus Reviews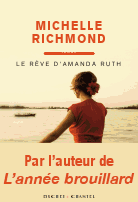 "With the slow build-up of a mystery, the exquisite pain of a coming-of-age novel, the masterful images of a travel writer, and a darkness that is true to the Southern Gothic, Dream of a Blue Room is a work of wonderfully chimeric form. " Joanna Pearson, Small Spiral Notebook
Win a signed book
and keep in touch
Each month, two readers receive a signed book. Enter your email address to enter the drawing and receive my monthly newsletter.