Golden State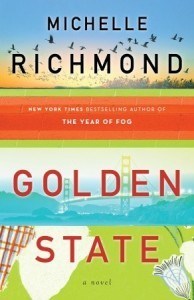 Doctor Julie Walker has just signed her divorce papers when she receives news that her younger sister, Heather, has gone into labor. Though theirs is a strained relationship, Julie sets out for the hospital to be at her sister's side—no easy task since the streets of San Francisco are filled with commotion. Today is the day that Californians are voting on whether or not to secede from the United States. It is also the day that Julie will find herself at the epicenter of a violent standoff with a former lover who has become obsessed with her.
Throughout the ordeal, Julie's estranged husband, desperate for reconciliation, sends out coded messages from the radio station where he is the well-known Voice of Midnight.
GOLDEN STATE takes readers on a journey over the course of a single, unforgettable day. Five years in the making, GOLDEN STATE is both a literary thriller and a meditation on marriage, love, and loyalty. Like The Year of Fog, it is a page-turner with a philosophical bent.
Add Golden State on Library Thing
Add Golden State on Goodreads
"Amazing, turbulent novel woven of disparate threads…Nearly every feature of this mesmerizing novel is provocative, as Richmond explores the fragmented, hopeful lives of complex characters. This is gripping, multilayered must-read fiction …" —Andrea Tarr for Library Journal, Starred Review
"Seemingly random situations are tied together during a single day with breathtaking grace by Richmond in an understated yet riveting read…"Julie Trevelyan for Booklist, starred review
"A stirring look at the ties that bind husband-wife, mother-child and even sisters, and what happens when they're torn asunder. Set in a San Francisco chafing with unrest both political and personal, the world Richmond creates is exquisitely charged with regret and hope." -Family Circle
"I  hadn't read such a gripping, bittersweet, moving novel in ages. Golden State  sweeps you up, whisks you away and doesn't let you go till the very end. Michelle Richmond, author of the unforgettable "The Year of Fog", does it again,  and all I can say is "Merci!" Tatiana de Rosnay, NYT bestselling author of Sarah's Key, A Secret Kept, and The Other Story
"A breathtaking read and one I'll not soon forget…" Melanie Benjamin, NYT bestselling author of The Aviator's Wife and Alice I Have Been
"This is the kind of book you want to read slowly–savoring the deeply believable characters, the beautifully described San Francisco setting, the strangeness (and rightness) of its all taking place on the day California may vote to secede from the nation–but instead you read it in a mad rush to find out where this incredibly talented writer is taking you." Ann Packer, bestselling author of The Dive from Clausen's Pier and Songs Without Words
"A hauntingly original, ticking time bomb of a story...Dazzlingly smart and moving, Golden State doesn't just shine, it blazes." Caroline Leavitt, NYT bestselling author of Pictures of You and Is This Tomorrow
"So imaginative, so heartfelt, so deftly made–a masterful braid of memory and urgency.  Richmond is in top form, and has made a book of exquisite grace.  Certain to be on everyone's list." Andrew Sean Greer, bestselling author of The Impossible Lives of Greta Wells
"In Golden State, Michelle Richmond slices to the heart of love in so many of its permutations…I was swept up in this lovely, poignant novel, my sadness at its end only mitigated by my pleasure of having experienced its many gifts." Ayelet Waldman, New York Times bestselling author of Red Hook Road and Bad Mother
"Riveting and evocative, GOLDEN STATE understands that love is built on fault lines, and the smallest choice to connect anyway is so valiant and so beautiful. Julie Walker is a bold, broken, flawed, and utterly compelling heroine who hurls her whole weight upon the fragile threads of human connection. I was unable to breathe properly or stop reading, desperate to know what would break and what would hold. Richmond is a writer of rare vision and grace, and GOLDEN STATE is her best book yet. I couldn't put it down."Joshilyn Jackson, NYT bestselling author of A Grown Up Kind of Pretty and Gods in Alabama
"Under the pulsing beat of so much drana–a hostage situation, a city in chaos–there's the quiet thrum of a deeper story: with an unraveling marriage and a damaged sibling relationship, can Michelle Richmond's heroine find the strength to survive? GOLDEN STATE is a powerful, riveting and heartfelt novel, an ode to San Francisco and to the fierceness of the human spirit." Ellen Sussman, NYT bestselling author of French Lessons and The Paradise Guest House

"Beautifully written, Golden State is a tender portrait of loss, marriage and sisterhood, all set against a gripping backdrop sure to keep readers' hearts in their throats as the story unfolds."  Cathy Marie Buchanan, author of The Painted Girls
"Richmond is a brave writer. When trust is shattered, she's bold to say that forgiveness isn't always possible. But her character is brave too, and her struggle to survive such total upheaval is an amazing read." Lydia Netzer, author of Shine Shine Shine
"In Golden State, Michelle Richmond piercingly focuses on a single terrifying day in the life of a woman determined to save the ones she loves against terrible odds, as the city around them crumbles. A fierce and luminous story about love, loss, family, and forgiveness." Carla Buckley, author of The Deepest Secret
Pre-order
Other news
My first story collection in more than a decade, HUM, winner of the Catherine Doctorow Innovative Fiction Prize, will also be published in 2014 by Fiction Collective 2 and University of Alabama Press.
In the meantime, please visit my facebook page for updates on the Year of Fog film adaptation, currently in progress with Battleplan Productions.