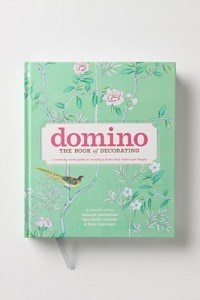 As a host of new decorating and home design books crops up (reviews coming soon), I still stand by Domino Book of Decorating, an oldie but goodie.
I was bummed when Domino folded a few years ago, and I received a note in the mail stating that my subscription would be replaced with a certain periodical, which I shall not name here, that focuses primarily on articles like "How to Make Your Man Happy While Walking in High Heels and Creating a Five Course Meal."
So I was pleased to discover Domino: The Book of Decorating: A Room-by-Room Guide to Creating a Home That Makes You Happy
, which includes a bunch of gorgeous photos and practical ideas for how to choose a rug, balance the various elements in a room, and make your space more inviting. There's a great list of resources at the end of the book, ranging from the high-end to the Ikea in all of us. If decorating seems overwhelming, this book has some good advice on prioritizing and budgeting to create the best space your schedule and your wallet can afford.
Also recommended: Grace Bonney's big, beautiful Design Sponge at Home and Dwell Studio founder Christiane Lemiux's Undecorate, which offers a delightfully unconventional approach to making your space your own.
One thing all of these books have in common: an insistence on mixing high-end and low-end products, and a celebration of the unusual, very personal find. My grandmother's old metal colander, for example, beautifully bent and deeply nostalgic, holds a central spot in my dining room.