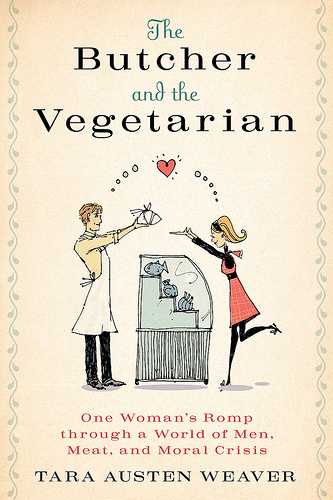 The Butcher and the Vegetarian, a smart, thoughtful memoir by Tara Austen Weaver, racked up rave reviews when it came out in 2010. If you missed it, read it! Weaver was a life-long vegetarian who only began eating meat under doctor's orders. Her voice is charming, witty, and sincere, with none of the holier-than-thou lecturing that weighs down a great deal of food writing these days. Her adventure is good reading for anyone who cares about where your food comes from.
Weaver is the voice behind the popular food & lifestyle blog, Tea & Cookies.
Having survived a vegetarian childhood of aggressively healthy fare—more brown rice and steamed vegetables than you can shake a stick at—Tara taught herself how to cook. She became good at it too, whipping up fine meatless fare for friends and family. Then she became sick, and the doctors had an unexpected prescription for her: Eat Meat.

The Butcher & The Vegetarian is the story of one woman trying to figure it out. Should we eat meat, how much meat should we eat, and how the heck do you cook it? With the redemption of broccoli on one shoulder, the temptation of bacon on the other, she tries to figure out the world of meat and the men who live in it.
A very human exploration, from heart-searching to heart-gladdening.
Kirkus Reviews
A toothsome take on the learning-to-eat-better memoir… honest and endearing.
Publisher's Weekly, starred review
Weekly Writing & Publishing Tips
delivered to your inbox. Your email address will never be shared.