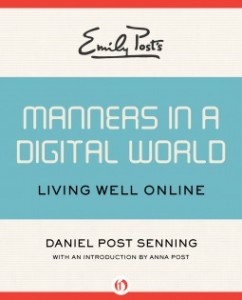 The Emily Post Institute has released a new book with Open Road media, Emily Post's Manners in a Digital World: Living Well Online, by Daniel Post Senning.
In this video, Post's great-great grandkids talk about the famous etiquette maven's legacy and the importance of etiquette in a facebook, twitter, tumblr, and texting world.
Writing a novel? Get the GUIDED WORKBOOKS FOR WRITERS — an innovative series of workbooks designed by a New York Times bestselling novelist and veteran writing teacher to help you write your novel without an outline.
Weekly Writing & Publishing Tips
delivered to your inbox. Your email address will never be shared.