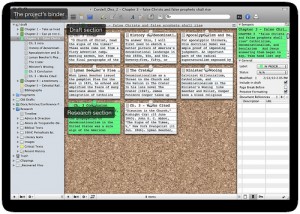 The only way to be a writer is to sit down and write. It doesn't matter how many terrific notebooks and apps you have, or how gorgeous your desk looks, or how supportive your writing group is: if you don't actually sit down and do the work, you can't really call yourself a writer.
But if you've committed to sitting down and doing the work, there are some great tools to make the process run a bit more smoothly. Here are four of my favorites.
1. CREATAVIST
What it is: a free platform for writing and publishing your books.
Why I love it: Not so long ago, if you wanted to publish an ebook across different platforms, you had to perform a whole lot of formatting voodoo. Every major platform–Kindle, Nook, Kobo, ibooks, and Smashwords–had different formatting rule. The toughest part by far was creating a linkable table of contents. With Creatavist, you insert your text chapter by chapter, choose the formats in which you would like to publish, and then download a separate file for each platform.
Cost: free
Go to Creatavist.
2. CREATESPACE
What it is: Amazon's free platform for designing and publishing print books
Why I love it: Createspace makes it easy to design a good-looking cover by inputting your title, image, cover copy, and author name. Once you've created your cover, you can upload the interior of your book as a PDF or .doc file. You can either use the online proof to make sure everything looks the way you want, or, to see exactly what your printed book will look like, you can order a proof.  Once your book is ready for publication, it just takes a few clicks to put it up for sale on Amazon. You choose the price and distribution options; you can offer it for sale on Amazon, in bookstore chains, and for libraries. You can also order deeply discounted copies to sell or give away.
Cost: free to join, free to sell. Pay only for the books you purchase for yourself.
Go to Createspace.
3. SCRIVENER
What it is: an app to help you organize your writing into chapters, research, scenes, and more
Why I love it: the corkboard interface is really attractive and intuitive. The highly customizable, hierarchical ranking of folders, files, and research is a great fit for anyone using The Paperclip Method to write their novel. Several years ago, I was so impressed by Scrivener that I bought a Mac laptop so that I could use it. I wasn't disappointed! You can get the Scrivener app for Mac here. While Scrivener has, unfortunately, not available as an ipad app, you can download the Index Card app ($4.99) on your iphone or ipad and sync it with Scrivener. Scrivener is far from free, but I find that it's very much worth the price.
Cost: $44.99 for the app
4. SUBMITTABLE
What it is: a free tool for submitting your work to literary journals and other magazines
Why I love it: Submittable allows you to submit work to any one of the hundreds of high-quality literary magazines that use the service. It will also keep track of all of your submissions in one place. It is currently becoming the most popular submission tool for everything from The Atlantic to McSweeney's. Currently, the only way for writers to sign up for Submittable is to submit to a magazine that uses the service. Boo. Once you've done that, however, it will keep track of the status of all of your Submittable submissions–accepted, rejected, in progress, etc. As an editor (over at Fiction Attic Press), I use it to communicate with submitters and to run contests. By the way, once I've accepted someone's work and it's time to put together a book, I head over to Creatavist.
Cost: free
What it is: a series of workbooks designed to help you figure out the heart of your story and write your novel from start to finish
Why it works: The Paperlcip Method series includes four workbooks: Story Starters, The Complete Character, The Paperclip Method: The No-Outline Novel Method, and Next Draft: Tools for Revision. The series is designed for anyone who wants to write a novel but isn't sure where to begin, or anyone who has tried to write a novel but can't get all of the threads to come together. You can download the entire series instantly, or purchase individual workbooks.
Why I believe in it: I created this series based on my years of writing practice and teaching private classes and gradate-level writing workshops. The method outlined in these workbooks is the same method I have used to write four novels, including a New York Times bestseller.
Price: $14.99 for one workbook, $39.99 for all four
Weekly Writing & Publishing Tips
delivered to your inbox. Your email address will never be shared.