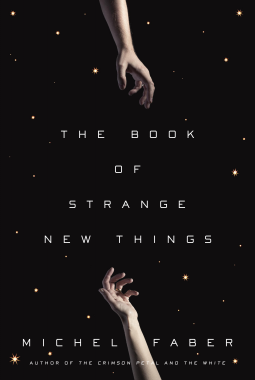 The Book of Strange New Things, by Michael Faber
Reviewed by Michelle Richmond
forthcoming from Crown Publishing, October, 2014.

When a missionary from England arrives in a distant galaxy as the latest employee of a corporation called USIC, he is surprised to find that the native population is far from hostile. In fact, the Oasans have been waiting for him. He soon discovers that he is not their first pastor; the previous missionary,  Kurtzburg, walked away and never returned. Gradually, Peter comes to understand the reason he was hired: USIC's continued relations with the locals were in jeopardy.
Together, Peter and the locals build a church while he shares with them the gospel from The Book of Strange New Things. As his church rises from the ground and he becomes further and further disconnected from the USIC settlement fifty miles away, Peter's pregnant wife Bea sends desperate missives from home. The world is falling apart–mass warfare, starvation, unprecedented natural disasters. As the distance grows between Peter and Bea, so does the distance between the pastor and his fellow workers at USIC. One wonders: will he "go native" like (Kurtz)burg?
Faber skillfully avoids the expected tropes of colonization. The corporation does not wish to obliterate or assimilate the locals, but to live peacefully alongside them. Miscommunication, however, is inevitable. Aside from Kurtzburg and a linguist who also disappeared, the employees of USIC have done little to understand the language or daily lives of the Oasans. Instead of bringing disease, USIC brings medicine, for which the locals trade food that they have painstakingly harvested and prepared. But the trade proves to be unequal: the medicine cannot save the locals from the thing that threatens them most.
Satisfyingly reminiscent of Ray Bradbury's Martian Chronicles, with nods to The Heart of Darkness, The Book of Strange New Things is a brilliant work of hybrid fiction. Part love story, part sci-fi thriller, part cautionary tale, Faber delivers an unforgettable novel that raises important questions about faith, fear of the unknown, and our place in the universe.
Michelle Richmond, New York Times bestselling author of Golden State and The Year of Fog

A review copy of this book was provided by NetGalley.