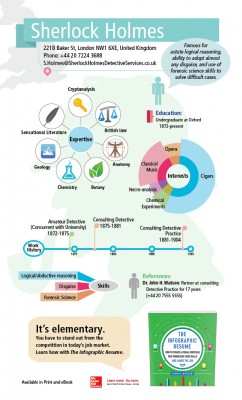 Hannah Morgan thinks resumes are rather dullish. Her solution? The Infographic Resume: How to Create a Visual Resume That Showcases Your Skills and Lands the Job. To promote the book, McGraw-Hill Professional has created an infographic resume for a man who needs no letter of recommendation, Sherlock Holmes. It's very pretty, indeed. The timeline is especially catchy. And I like that Morgan presents a more exciting alternative to the dull bullet-point resume. However, I presume that if Holmes himself were to show up at Scotland Yard with something like this, he'd be escorted to the door.
The book, which is packed with eye candy, could prove quite helpful for a young person hoping to stand out from the crowd in the field of advertising, publicity, or graphic design. The author includes a lovely example of a one-page resume for typographic designer Kelly Weihs. A typographic designer is exactly the kind of person who can benefit from Morgan's approach. Infographic resumes might also be a good fit for any company that uses the word "disrupt" in its mission statement. As the editor of a small press (albeit one that does not use the word "disrupt"), if I received a resume that looked like this, I would definitely be intrigued enough to follow the links.
However, the book should come with a caveat: the infographic resume isn't right for every job search. Sometimes, the bells and whistles will only get in the way. In academia, for example, if you turn in anything other than the expected CV, your application will quickly move to the recycle bin. Finance, wherein one aims to handle large sums of other people's money, probably isn't a good field in which to show your flare for color.  Many fields outside of arts and entertainment, in which you want to present yourself as a person of gravitas, may have not yet caught on to the visual resume trend.
Financiers and professors aside, this book is a great tool for young people looking for their first job right out of college, as well as more experienced professionals in highly creative fields. Morgan includes good resources for where to host your resume and portfolio online, as well as basic steps to creating an alluring online presence. She offers basic advice on creating an effective pitch and getting a good headshot. There's a decent section on common mistakes to avoid. A couple of the examples, unfortunately, such as an off-puttingly fussy resume for one graphic designer, look like they would be better placed in the don't-do-this chapter (don't put your own words in giant quotes at the top of the page, for example, and don't include a photo of yourself looking coyly off-camera.)
Ultimately, visuals are only as good as the information they convey. The traditional resume works in part because an employer who is going through hundreds of resumes knows exactly where to look to quickly ascertain your education, experience, career goals, and references. Requiring a hurried employer to search an unfamiliar document in order to get the information she wants might prove off-putting.
Kyle Bahr's resume showcasing his talents as a digital strategist and wilderness explorer combines the best of old and new: everything is where you would expect it to be, which gives the resume that ever-important quality: clarity. A few well-placed graphic elements, and a smart use of color, typography, and icons, make it a beauty to behold and guarantee that it won't get lost in the forest. By the way, while looking for an elusive link to Bahr's infographic, I found a traditional resume by the same Kyle Bahr, a resume so direct and yet personality-driven (after a clear list of his relevant experience, Bahr includes  "World's Best Grandson" in the Award section) that it would be likely to stand out from the crowd on its own simple merit.
Final take: Despite a few missteps, The Infographic Resume provides a fresh take on the art of selling oneself. A helpful guide to standing out from the slush pile, as long as one keeps in mind that, sometimes, a simple "World's Greatest Grandson" will do.