Beautiful and Functional Standing Desks for the Modern Minimalist Home Office
(and great standing desk options for short people)
Because I spend most of my working time on my computer, writing books and running a small press, I've been on the lookout for a standing desk that looks good, is simple, and isn't too expensive. To complicate matters, I'm quite short, just 5'2″, and most of the standing desks seem to be better suited to taller people.
First, the not-so-pretty but functional hack
One popular standing desk hack, the Ikea Lack side table hack, seemed like a good option, because I already have an Ikea Lack table that's just sitting in the storage closet. However, when I tried putting the Lack table on top of my desk, it felt as though I was looking up way too high, like when I go to a party filled with tall people and I'm not wearing serious heels. Also, there was no way I could type from that angle.
So instead, I put the Ikea Lack table on my coffee table, and it worked just fine. It's the perfect height for typing, not difficult for viewing the monitor, and best of all, I can take in the canyon view outside my living room window. Also, this particular Ikea table seems to be made of cardboard or something, so it's no heavier than a magazine. So, here's my inexpensive standing desk for short people, using the Ikea Lack side table: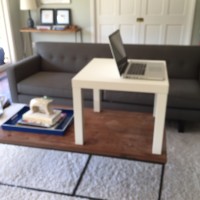 All you have to do is set your $20 table on top of your existing coffee table, and you're good to go. Unfortunately, while this is a great solution for my laptop, which I use for writing, it doesn't work for my big Mac desktop, which I use for publishing and web design.
However, did I mention? I'm a grownup, and I like grownup furniture. When it comes to my writing space, I like it to be not only functional, but also attractive.
You can find a number of standing desks online, but most of them are ugly metal things that look better suited to an afternoon with your gaming buddies from Best Buy (nothing against gaming or BestBuy, but I'd like something a bit more elegant). Which brings us to…
Elegant, minimalist, modern wooden standing desks for grownup people who like for things to look nice
ReadyDesk
The most attractive and adaptable standing desk that works for both desktops and laptops is Readydesk. According to creators Ben Larson and Joe Nafzier, who made a Kickstarter campaign to get the desk to market, "Readydesk is lightweight, strong, ergonomic and beautifully designed to setup without tools." Readydesk consists of four interlocking pieces of plywood–two sides plus two shelves that can be arranged at various heights to fit your equipment and your stature.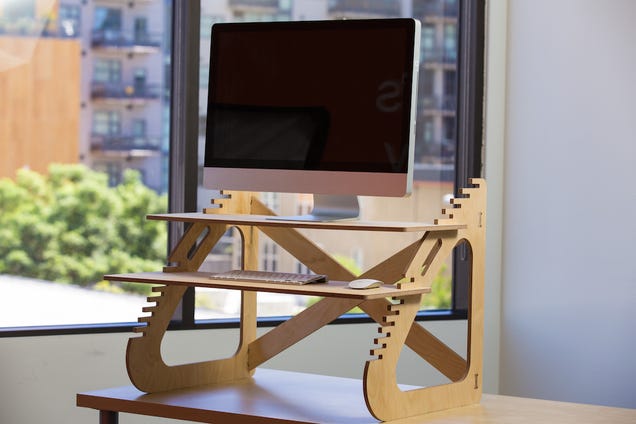 Readydesk weighs about fifteen pounds, which means you can't carry it around town but if you need to move it occasionally to different areas of your home or office, it's not difficult. At $169, it's more far more affordable than purchasing a new standalone desk, and, if you're into the design of your office space/writing space, it allows you to stay modern and minimalist instead of adding ugly contraptions and changing the footprint of your floorspace. You can also purchase additional shelves.
Upstanding Desk
Very similar to the ReadyDesk, differing mainly in style, is the Upstanding desk. Whereas ReadyDesk is all curves, Upstanding is a right angle sort of thing. Also made of wood, also highly adjustable for short people and tall people alike, also really, really good-looking, and similarly priced at $199, and funded through Kickstarter, the Upstanding desk will suit folks who like the ReadyDesk but want something with a deeper lower shelf, as well as sides to keep things from falling off. A great feature of Upstanding is that it has grooves to hold your iPad and other devices. The Standard version of the Upstanding desk is 29″ wide, but you can also buy it in double wide, if that's how you roll. The website warns customers that the boxes are heavy and shipping is expensive, "but it's totally worth it." If you're good with a handsaw, you can order the Upstanding desk plans and build the whole thing yourself for $49, but that sort of seems like kind of a lot of trouble, right?
StandStand
Another great option for laptop users is StandStand, which also was born on Kickstarter, and which, like ReadyDesk and Upstanding desk, is made of wood and sits atop your current desk. At under two pounds and foldable (it fits in your laptop case), StandStand is very portable and inexpensive. While not quite as versatile ergonomically as the previous two options, it does come in three sizes: 9″ (for short people like me), 12″ for regular folks, and 14″ for the giants among you. It's $69 in Baltic Birch and $99 in Bamboo, and while the top is too small to hold your desktop, it can support a lot of weight (enough to sit on, if you want to). It's also made in the US of sustainable woods. The StandStand blog, complete with images of happy hipsters building these babies in their woodshop, will make you fall in love with the product, and this video will make you fall in love with its dreamy creator, Luke Leafgren. In the video, Luke takes the StandStand to the cafe and elsewhere, because when you look like Luke Leafgren, you can get away with that sort of thing.
Even the StandStand packaging is fun. See the smiley face and the bright yellow, look-at-me accents? That design and marketing team has some smart people, for real.
If I only needed a desk for my laptop, I'd definitely buy the StandStand–and I may still purchase one. But since I spend half of my time on my desktop, I think I'll just use the Lack for now for my laptop and get the ReadyDesk for my big Mac (the computer, not the sandwich). It's really a close call between ReadyDesk and Upstanding, but ReadyDesk comes in at a slightly lower price point, and Upstanding's "Wait! Our shipping is seriously expensive warning!" before you even add the product to your cart  might be scaring some people off.
I'll post photographs and a review after my ReadyDesk arrives and let you know how it works out.