Modern Furniture from Small Shops & Innovative Makers
If you've been following this blog, you know that I primarily write about writing, publishing, and literature. But my secret passion is for design, and I'll confess that I spend countless hours tracking down great designs from high to low. I especially love small furniture and design shops, where the makers put their personal stamp on every piece. This week, I'm focusing on small makers of beautiful modern furniture.
Organic Modernism (Brooklyn)
I came across this shop while reading a Remodelista piece on, ironically enough, custom cabinet fronts for Ikea kitchens. Images from the featured home (by Smitten Studio) showed a couple of beautiful wooden stools, which were attributed to Organic Modernism.

On Organic Modern's website, I found all sorts of amazing pieces. Here's the one I'm dreaming of, modern shelves in a mix of walnut and candyesqe brights. At 94.5″ wide, these gorgeous shelves won't fit against any wall in my house, but if they would, I'd have to tie myself to a chair to avoid clicking the buy button.

The shelves are $1,995, and you can buy them here.
I'm also in love with this modern sofa, made of a walnut frame with fabric upholstery and seat back. The extension rising up out of the back makes it look as though the sofa could up and fly away. This is a statement piece, unlike any sofa I've ever seen. In my home, we're blessed with floor-to-celing windows that I'd be crazy to cover, so we keep our seating low profile in order not to obstruct the views. But if you have a central spot in your home crying out for both a practical sofa and a conversation-inducing statement piece, here's your solution.

The sofa is $3,995, and you can buy it here.
Our final item is this beautiful credenza with a walnut frame. This is Organic Modernism's take on a sophisticated mid century modern classic. At $2,995, it's in the same price range as credenzas by the big chain stores.

If you prefer vintage, there are a lot of great mid century modern finds at One Kings Lane, like these Burke chairs in white and yellow, and, below, this beautiful mid-century modern teak credenza.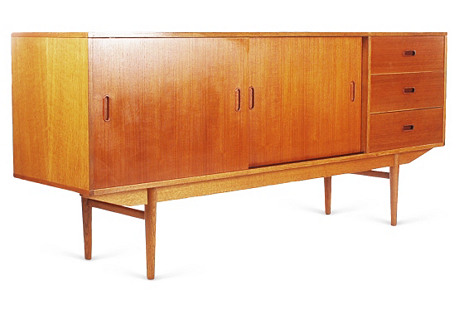 Mid-Century Modern Teak Credenza
from: One Kings Lane