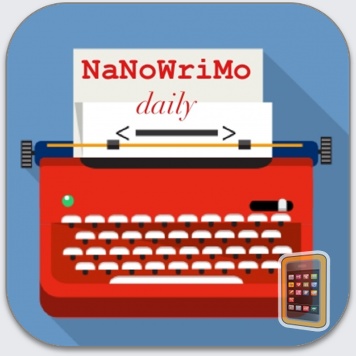 Write your novel in 30 days with the new app NaNoWriMo Daily. Exercises, inspiration, & valuable advice to help you write your novel from start to finish. There are plenty of word-counter apps out there; this isn't one of those. NaNoWriMo Daily is a content-rich app that is as educational as it is inspirational. This is an app built by a writer, for writers.
Featuring a day-by-day guide to getting your novel on the page, plus helpful mini-lessons on plot, structure, characterization, dialogue, setting, voice, and more. In addition to the daily guide, a series of 500-word writing prompts will help you get past procrastination to get the bones of your story on the page. The Notes on Craft section includes in-depth articles on the finer points of narrative craft, as well as fascinating stories and advice from successful authors. In the Resources section, you'll find workbooks, writing classes, and opportunities to submit your work for publication.
Want to write a novel? NaNoWriMo Daily will help you reach the finish line. I developed this app for Fiction Attic Press–a small, independent press I run out of Northern California, which is dedicated to discovering and publishing new writers.
Get it now on the itunes app store.