The Joy of Less: How to Declutter & Live Simply
How to Declutter
So maybe you've made a resolution to downsize, declutter, and simplify your life. It seems as though everyone is talking about living simply these days. The desire for simple living is a natural response to the frightening economy, the daily stresses of life in a highly technological age, and the intense pressures that both kids and adults face to be better, smarter, faster, thinner, more excellent in every way.
If you're like me, you've made this resolution every year for the past ten years. You keep planning to throw stuff away, but never get around to it. You keep planning to stop shopping, but then you see that stunning pair of shoes, and you forget.
Related post: Get help organizing your closet.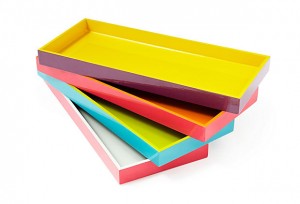 (At left, organize small items like jewelry, desk supplies, and small toys in colorful lacquered wood trays. Set of 4 at One Kings Lane).
This just might be the year I finally realize my long-set-aside goal of getting rid of the stuff I don't need. To help me on my journey, I'm using Francine Jay's wonderful book The Joy of Less: A Minimalist Living Guide. As for decluttering the mind, which is every bit as important as decluttering the house, I'm enjoying Get Some Headspace: How Mindfulness Can Change Your Life in 10 Minutes a Day, by meditation expert Andy Puddicombe.
To keep myself honest, I'll be blogging about my progress. If I don't post for a while, you'll know I haven't gotten rid of anything. Please send me a note to get me back on my toes.
See related post: 5 Simple Everyday Rituals for a Happier Life
Completed minimalist tasks:
On Friday, I took a bag of toys and a bag of clothes to St. Vincent DePaul.
On Saturday, I put two itmes up for sale on Ebay. If they don't sell, they're going straight to the donation center.
Yesterday, my husband listed a few items on Craigslist for free or next to free:  a bathroom mirror we removed when we had the house painted in October, a fireplace mantel that was removed when we updated the ugly old 60s fireplace to a streamlined concrete one (okay, the new fireplace was a big expense, but I feel it was an expense that had value; just looking at the new fireplace makes us feel calm), and I took three boxes of towels and linens, a box of toys, and a bag of clothes to St. Vincent de Paul.
Last week, I organized the storage shelves in the hallway so that everything looks tidy and pretty, and the things we use are easy to find. Now the towels and linens are in their proper places, and my son's tiny toys–all those things that end up on the floor and in drawers and in other toys' boxes, where they can never be found–are in glass jars for easy viewing and access.
Another dilemma is books. Aside from the dozens of books I buy each year, and rarely cull, I keep a small store of my own books in reserve for readings that are not hosted by local bookstores. These copies are generally stacked willy-nilly around the house, and when I'm going to an event where I'm expected to bring my own books, I end up tearing apart the shelves at the last minute. Now, they've all found a their proper place in a tucked-away shelf of my home office, a room that I never actually use for writing, because it's way too cold down there.
The art of simple indulgence:
Dieting is almost impossible when you give up everything at once. So too with simplifying your life. 
The process works better if you allow yourself a simple pleasure or two
: For me, this means that I won't stop buying books. (That would be hypocritical, since I certainly hope that the good readers of the world will keep buying 
mine
.) Think of one or two things you're not willing to give up, and allow yourself that indulgence. It will make the other aspects of your simplicity regimen feel less like a sacrifice.
Toys, treasures, nostalgia, & minimalism:
I'm particularly happy about number 4, because minimalism, in my mind, isn't just be about getting rid of anything and everything. It's about editing: keeping the things your family really uses, the things that bring pleasure to you or your partner/spouse or your kids, and storing those things in plain sight. A home should be a story of who you are and how you live. Shoving everything into boxes in the closet might make for a more streamlined space, but it also denies you some of the simple joys of everyday living.
The plastic blocks, for example, are from my grandparents' home in rural Mississippi. Seeing these reminds me of all the afternoons I spent on the floor with my cousins, putting little green men in the boxes. My son loves playing with them too, and he is excited when I sit on the floor with him, building shapes with the boxes, telling him stories of my own childhood. The Lincoln Logs in their see-through jar beg to be played with. The hot wheels never fail to come out when my son has a playdate. Yes, these are objects we could technically get rid of–a purist might say we need only one Hot Wheel, one set of building toys–but for me, toys that get me and my son down on the floor together, eye to eye, chatting and just being happy in the moment, are worth keeping.
The story so far
: We're off to a good start, better than most years, but there is much to be done. For inspiration, I'm turning to a wonderful book by Miss Minimalist,
The Joy of Less: A Minimalist Living Guide
. Buy it from
Indiebound
or
Amazon
. (Of course, one might argue that acquiring a book about minimalism flies in the face of minimalism, but  as a writer who believes in the joy of the printed book, someone who wants to see books continue to be published, I believe in a kinder, gentler form of de-cluttering the bookshelves: if you can afford it: buy it once, then pass it on.)