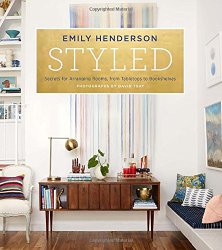 5 Fresh, Inspiring Books on Design – The Best Design Books to Read Right Now
We all have "things that matter" in our lives, possessions that mean more to us than they could to anyone else, objects that tell our life stories. When we honor those objects and live with them in a functional way, it brings a sense of calm and order to our homes. The most inspiring design books don't provide a list of things to buy. Instead, they show us how to hit refresh on our homes by balancing what we already have with our day-to-day needs.
Here are the five best design books I've read lately. Whatever your lifestyle, whatever your aesthetic, you'll find plenty of ideas for making your home more beautiful, functional, and livable. Learn how to arrange what you already have; how to style an entryway, bookshelves, or any space; how to live with art, mix modern with vintage, or bring the outside in.
Every one of these books offers a wealth of photos, as well as room-by-room guides and isights on how to think creatively about your space. And they all prove that you don't have to spend lavishly to live stylishly.
Best Design Book for Busy Moms
Design Mom: How to Live with Kids: A Room-by-Room Guide by Gabrielle Blair.
Gabrielle Blair really knows how to live with kids. She has six of them! DESIGN MOM shows you how to create a beautiful, functional, unfussy, kid-friendly home. Featuring great advice on how to live with kids' stuff without letting it take over the house, and great storage ideas for corralling stuff while keeping a warm, modern aesthetic. Blair lives in Oakland. Go to her blog, Design Mom, for inspiration.
Best Design Book for Styling Tricky Spaces
Styled: Secrets for Arranging Rooms, from Tabletops to Bookshelves by Emily Henderson
Emily Henderson provides a 10-step guide to arranging your tricky spaces, like entryways and bookshelves, with "1,000 design ideas for creating the most beautiful, personal, and livable rooms." This is a photo-heavy book without a whole lot of text. The book is broken down by room, and tends toward the midcentury modern and boho styles.
Best Design Book for the Naturalist
Habitat: The Field Guide to Decorating

by Lauren Liess
In this meaty design book, Lauren Liess, the blogger behind Pure Style Home,, provides a crash course on architectural elements ("The Fundamental Elements of Design"), then walks readers through "The Intangible Elements of Design"–style, mood, comfort, luxury, and charm, among others. She finishes with a room-by-room guide. This is a book for readers, not just lookers. Less, who specializes in bringing the outside in, shows you how to mix natural, vintage, and modern elements; how to use color, lighting, and texture; and how to live beautifully with art.
Best Design Book on a Budget
The Inspired Room: Simple Ideas to Love the Home You Have by Melissa Michaels
You don't have to spend a lot of money to have a beautiful home. Michaels encourages you to begin with what you have. She divides rooms up by function–a place to gather (living room and dining room), a space that nourishes (kitchen and pantry), a place for conversation (family room). A beautiful, thoughtful, and doable guide for the happy I'mperfectionist.
Best Design Book for the Nostalgic
The Things That Matter by Nate Berkus
Part memoir, part design book, The Things That Matter feels like an intimate conversation with design guru Nate Berkus. See inside Berkus's home and discover the people, places, and things that influenced and inspired him. Berks believes that every home tells a story. Featuring detailed photos from 12 homes and the stories that make each home unique. Booklist raves, "This is truly an awe-filled, happy book, on the surface about decorating, but, on a deeper level, how the things we love unfold our soul." More a by-the-bedside book than a coffee table book, this is one you'll want to sit with for a while.