About Sans Serif: the blog for writers, readers, & lovers of good design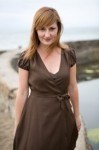 Sans Serif is the blog of New York Times bestselling author Michelle Richmond.
About this blog: I began began blogging at Salon Blogs about ten years ago, with Michelle's Daily Dose for Writers. I settled at Sans Serif in 2005, and I blogged sporadically at SFGate from 2009 to 2012. I write about books, publishing, design, style, technology, science, current events, and San Francisco's thriving literary culture. If you like what you see, please share on Pinterest, twitter, facebook, etc. (sharing buttons are located at the bottom of each post).
I've published three novels– THE YEAR OF FOG (2007), NO ONE YOU KNOW (2008), and DREAM OF THE BLUE ROOM–and a story collection, The Girl in the Fall-Away Dress. I grew up in Mobile, Alabama, attended the University of Alabama and the University of Miami, and moved to New York City right out of graduate school in 1997. In 1999, my husband and I moved to San Francisco.
If you'd like to write a guest post, please connect with me here and tell me what you'd like to write about. I welcome thoughtful, well-written book reviews and interesting author interviews, as well as articles on writing, design, parenting, science, and technology. I am also interested in articles on missing persons; if someone you love is missing and you are trying to spread the word, please send me a photo and all relevant information, including the number that people should call if they have information.
The best place to connect is on my facebook page. Comments are also welcome on individual posts within two weeks of posting.