5 Great Writing Apps You'll Really Use in 2015
I confess, I'm really into apps. Last year, I downloaded so many "productivity" apps, they took a serious toll on my productivity. In 2015, I'm streamlining my app use. I've deleted a couple dozen apps from my phone, keeping only the ones that I really use, and the ones that don't distract me. Drum roll please.
Pomodoro ($1.99)
This is a really simple app that forces you to stick to a schedule. Even though it's not made specifically for writing, Pomodoro is great for staying on track with a writing project. Basically, you set your phone for one pomodoro–a segment of time (mine is set for 25 minutes). Once you click "start," you work until the app dings, and then you take a break (I set mine for 5 minutes) until it dings again. Then you work for 25 more minutes, then a five-minute break, etc. After four segments of work, you get a "long break." Basically, it's a time that encourages you to stay in your chair and write.
WordPress (Free)
Well, let's start with "it's free." No commitment. If your blog runs on wordpress, you should try it. I spend a lot of time waiting for my kid at sports events and school pick up. With the WordPress app, if I have an idea for my blog (and these ideas almost always strike when I'm not at my desk), I can draft it right on my phone. You can also post from the phone, although I usually save whatever I'm writing as a draft and then edit and post it from my laptop.
Drafts ($9.99)
I do a lot of research when I'm writing a novel. I'm also constantly earmarking articles that I want to mention on my blog. Drafts is an easy way to save article links and texts directly from what you're reading. I like it because I'm always bookmarking articles on my phone or iPad, never to see them again. With Drafts, I have a handy list that's easily navigable, so none of those great ideas get lost. I purchased Drafts during a New Year's deal for $4.99, and it was worth every penny. The regular price is $9.99, which is a lot for an app, which brings me to…
1Writer ($2.99)
If you liked the idea of Drafts but don't like the price tag, try 1Writer. It's pretty, has great features, and costs seven dollars less. The developers describe it as "distraction free writing with inline markdown preview." Before I downloaded Drafts, I used 1Writer all the time. It doesn't have as many fancy features as Drafts, but it has plenty. My favorite feature is the in-app browser, so you don't have to leave the app to go to Safari if you're doing research.
30 Day Novel (99 cents)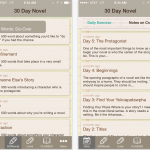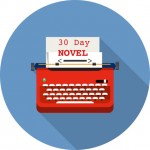 The 30 Day Novel app is a content-rich app designed to help you get a draft of your novel on the page quickly. It won't write your novel for you. It won't time you. There are plenty of great timer and scheduling apps on the market. This app, by contrast, focuses on clear daily assignments that are progressively arranged to help you build your novel from the ground up, one day at a time. In additional to the daily assignments, you'll find articles on narrative craft and a series of 500-word writing prompts. Based on The Paperclip Method, a highly effective approach to novel writing that values discovery over formula.
And one fun app you don't need at all:
Hanx Writer makes your iPad or iPhone keyboard sound like a typewriter. That's all it does. Nothing else. But it's really fun. It was developed by Tom Hanks. It's not so useful, but it's really addicting.
What are you favorite writing apps?
Please comment with the apps you find the most useful for writing, and I'll post them here on Sans Serif.