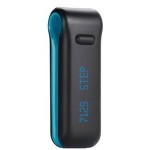 While looking for a pedometer, I came across the Fitbit. More sophisticated than your typical pedometer, the Fitbit, which you even wear while sleeping, is designed to measure your daily physical activity as well as the length and quality of your sleep. Does the Fitbit wireless trainer live up to the manufacturer's claims?
Now that I've had a few weeks to use the fitbit, I'll share my own thoughts, which are overwhelmingly positive. Update, June 30, 2012: I wrote this post in June of 2011. One year later, I'm still wearing the Fitbit daily, and it's still going strong!
What I love:
Simple to set up
easily readable display
tracks how long and how well you sleep!
battery lasts forever
Keeps track of the number of steps you've taken
Keeps track of the number of calories you've burned
Every time you walk by the base, your latest steps are downloaded to the website
Attractive, cleanly designed website which allows you to log your food, and shows calories burned vs. calories consumed. The food tracker also lists the percentage of your calories that come from protein, carbs, & fat
It's priced below cringe factor at the psychologically magic number of $99.95
Does way more than a traditional pedometer
What I don't love:
It's so tiny, it's easy to lose. (Tiny: good. Losing: bad) It needs some sort of tracker, like those keys you can find by clapping.
The base, just a tiny stand with a cord, must be plugged into your computer in order to download information, and I sometimes lose the base when I move my laptop around.
The Fitbit and Sleep
Personally, I think it's fascinating to know just how much I'm really sleeping, not to mention how little I'm really moving. Cool, easy-to-read graphics on the website show you how many times you tossed and turned in the middle of the night, and how much time you spent in deep sleep.
The Fitbit and Weight Loss
I exercise almost daily, but when I'm not on the treadmill or doing ill-advised moves with the kettlebell, I'm generally sitting in front of my computer, writing, the ultimate in sedentary occupations. If anything, the fitbit has inspired me to walk around the block and down to the pool while plotting my new novel.
THE VERDICT: No false advertising there. The Fitbit Wireless Tracker really is a genius little product, and now I have it on me at all times. Appendage, anyone? Highly recommended for anyone trying to lose weight or for fitness fanatics who take their gadgetry as seriously as their kickboxing routine.
TMore Great Products for Fitness Freaks
Amazing Grass. Yes, it is weird to drink your greens. I totally agree. And yet, I'm a sucker for this Chocolate Green Superfood drink mix by San Francisco based company Amazing Grass. I mix it with a banana and some frozen blueberries in the morning, and it's yummy, and I swear it gives me energy. Also really good for your skin–gives you that nice afterglow look. Seriously.
Under-desk elliptical trainer: Does your work require you to spend hours a day sitting? If so, check out this great little under-desk elliptical trainer by Stamina. At under $90, it's a great way to combat the shortened life span and clogged arteries that are pretty much guaranteed by too much sitting. See this New York Times article by James Vlahos, "Is Sitting a Lethal Activity?" Spoiler: Oh yes, studies show that sitting all day can shave years off your life, even if you exercise regularly.
SteriShoe Ultraviolet Shoe Sanitizer: Do you frequently wear running or exercise shoes? You might also like SteriShoe Ultraviolet Shoe Sanitizer. Great for eliminating the bad stuff in your sneakers that leads to the f-word.