About Michelle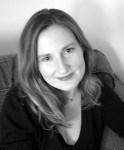 Michelle Richmond was born and raised in Alabama and has made her home for more than a decade in Northern California, where she lives with her husband and young son. She is the author of the award-winning story collection The Girl in the Fall-Away Dress (2001), the novels Dream of the Blue Room (2003) and No One You Know (2008), and the New York Times and international bestseller The Year of Fog(2007). Her new novel, Golden State, will be published by Bantam in 2014.
Her new story collection, Hum, winner of the Catherine Doctorow Innovative Fiction Prize, will be also be published in 2014 by Fiction Collective 2 and University of Alabama Press.
Richmond has received the Hillsdale Award for Fiction from the Fellowship of Southern Writers, the the Associated Writing Programs Award, and the Mississippi Review Fiction Prize. Her stories and essays have appeared in Glimmer Train, the Oxford American, Salon, Playboy, The Guardian, The Believer, Best American Fantasy, The Kenyon Review, The Missouri Review, and many magazines and anthologies.
She holds an MFA from the University of Miami, where she was a James Michener Fellow. She has taught in the MFA programs in Creative Writing at the University of San Francisco, California College of the Arts, St. Mary's College of Moraga, and Bowling Green State University. Michelle currently serves on the executive council of The Authors Guild and recently held the Sister Catharine Julie Cunningham Chair at Notre Dame de Namur University.
Michelle is the founder and publisher of Fiction Attic Press and San Francisco Journal of Books. She blogs at Medium and Sans Serif.
She is represented by Valerie Borchardt of Georges Borchardt, Inc.
Connect with Michelle on Twitter, Facebook, Pinterest, or Tumblr.
Win a signed book
Enter the monthly drawing
Each month, I randomly select one winner to receive a signed copy of one of my books. You choose the book, and I'll send it to you or a friend with a personal inscription. Simply type in your email address to enter the drawing and receive my monthly newsletter.